Window tinting and Paint Protection Film serves many purposes, including enhancing the vehicle's appeal and giving you a sense of privacy. However, before investing money into window tint for your car, you should understand what to consider when tinting windows. And you should educate yourself about window tinting laws in Minnesota to avoid paying a fine.
Bravo Protection Products, serving Minneapolis-St. Paul, MN, and the surrounding area offer window tinting and Paint Protection Film Services and educates consumers on how to choose the best window tint that suits their style and preferences.
Minnesota State Laws about Window Tinting
One of the most important aspects of Window Tinting is understanding your state laws because only a certain percentage of tints are allowed. All vehicles come with some level of window tint. Generally, it has around 75 percent transmittance, which is clear glass. SUVs, minivans, and trucks typically have tinted windows in the back, which meters out at approximately 15 percent VLT or Visible Light Transmission.
Moreover, when it comes to adding window tint to your vehicle, ensure that you know your vehicle's classification. The amount of tint varies depending on your vehicle's classification (passenger car, SUV, MPV, truck, etc.). All passenger vehicles need to have a 50 percent visible light transmission on all windows. In contrast, SUVs, minivans, and trucks can legally have darker window tint on rear windows if the front driver and passenger side windows meter at the legal limit of 50%. 
What to Consider When Tinting Windows?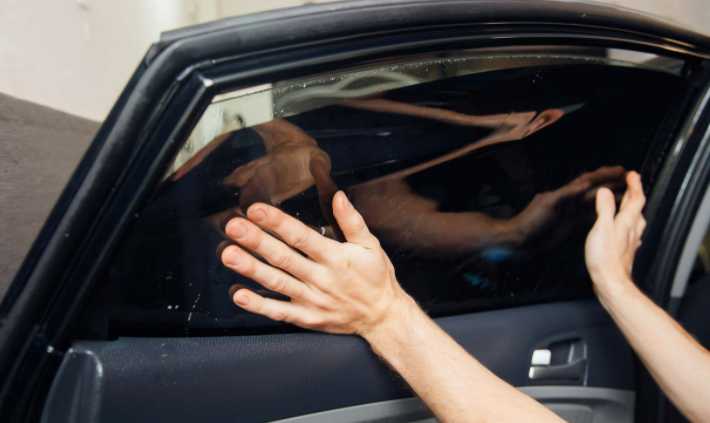 Firstly, you should understand how the process of tinting works. Our professional at Bravo Protection Products will apply a sheet of colored film at the desired level of tint. Through expertise and skill, our trained staff will apply it, so it lasts and doesn't bubble or peel. And never try to do the job yourself; results don't always look professional, especially if you are doing it for the first time. Moreover, not all options available to the general public are of the best quality.
You never have to consider the quality of the Window film you choose when you hire us to complete the job. While it may sound appealing to select the cheaper version when you choose a tint, you'll notice the difference when we'll help you to consider the final product.
Benefits of Window Tinting
People come to us all the time asking about our window tinting services. Many consumers believe window tinting can make their car "look cool," or it makes it easier for the driver to see at sunrise/sunset. But there are plenty of other reasons why window tinting is a smart and practical move. To know more, let's look at some of the benefits of tinting your windows:
Beat the Heat – Window tint will keep your car's interior cooler, so you won't need to blast the AC or roll the windows down whenever you drive. We can tell you that driving with the windows down can hurt your car's mileage. But Window tinting will keep you at a comfortable temperature so that you can save some money at the pump.
Theft Prevention – Whether it is a shopping bag, your backpack, or any other stuff, you've probably left something valuable in your car overnight by accident. Hopefully, it was still there in the morning, but far too often. We service cars with their windows smashed because a thief saw something worth stealing inside the vehicle. But Window tint makes it difficult for people to see in your car at night, which protects anything valuable you keep in your vehicle.
Reduces Glare – The sun's glare tends to make driving dangerous, and it also puts unneeded strain on your eyes. But Window tint will reduce glare and make it easy for you to see your surroundings while driving, and protects your eyes!
Protect Fading – The sun's rays cause your leather or vinyl to fade, which can make your car look less appealing, and it possibly affects the resale value. Apart from keeping the sun out of your eyes, window tinting also prevents damaging sun rays from hitting your car's interior. Imagine window tint as a sunscreen for your car's interior.
Protect Your Vehicle with Paint Protection Film at Bravo Protection Products
Keep in mind that your car will experience a real beating out in the open with gravel and other debris from the road, such as acid rain, hail, harsh sunlight, and bird droppings. Your vehicle is an investment that you make, and it isn't cheap. If you want it to look good for as long as possible and not scratched, faded, stained, or chipped by flying rocks.
Paint Protection Film Is the Answer
The Paint Protection Film is the best cosmetic protection you can buy for your vehicle. The film guards against the fading action of UV rays, keep rocks from scratching the paint, and prevents bird droppings and acid rain from staining and ruining the finish. With paint protection film, your car will retain its good looks for years down the road, protecting your investment and providing you with more peace of mind.
What Is Paint Protection Film?
At Bravo Protection Products, we use a clear, high-grade film of urethane that's applied to the most vulnerable areas of your vehicle, such as the hood, windshield, and fenders. The film's thickness is 8 mm, and the installation process can take anywhere from one to four hours.
Paint protection film at Bravo Protection Products will never harm your vehicle's existing finish, and only a very close examination can reveal its presence. We can also remove it without damage to your vehicle's original finish. Paint protection film carries up to a 10-year warranty and doesn't need any special care over time to look great!
Why Choose XPEL Paint Protection Film, the Ultimate in Vehicle Care in Minneapolis?
How to keep your car's finish in the best shape?  For starters, Paint Protection Film is a great choice. When the time comes to choose a film to protect your car's paint from scratches and wear and tear, you don't want to choose just any brand out there; you would like the best. If you go with XPEL Ultimate Paint Protection Film, it'll provide you with the quality you want. There's so much that comes with this ultimate protection wrap. So if you're looking for the best for your car, this is the right choice.
XPEL Paint Protection Film comes with the Smoothest Top Coat
This is as clear as the film gets, and you don't have to worry about the "orange peel" effect, so you'll not notice the film in the car. You'll have to look closely to rub down any edges that you find peeling up after installation since it is that clear.
XPEL Film is Self-Healing
All the scratches, spider webs, and swirls that occur on the film will be able to heal themselves. This factor is unique to this type of film. So do not sweat any small stuff that happens since the film takes care of it.
Expect Superior Stain Resistance with XPEL Film
Nothing can stain this film – road tar, salt, sap, bird poop, and even hot rubber will wipe right off since it is made with low surface energy.
XPEL Comes with a Ten-Year Warranty
XPEL Window Films protect against any yellowing that may occur along with many other defects that you might face. At Bravo Protection Products, we are confident with the products, and we stand behind it.
What are the Best Ways to Care for XPEL Paint Protection Film on Your Car?
Congratulations are in order if you've recently had an XPEL Paint Protection film installed on your car.  It's amongst the best products out there to protect your vehicle from scratches, stone chips, and kinds of damage from road debris and environmental issues.  If you have Bravo Protection Products professionally installed XPEL Ultimate. Check with us for more information if you've got questions regarding the care of your protection film.
Instructions to take care of your XPEL Protection Film
After installation, wait for 48 hours before washing your car.
Remove any stains from your car as soon as you notice them.
Any small scratches or scrapes that you notice on the film can heal within half an hour at room temperature. But may need to be accelerated using warm water on the affected areas.
Other Instructions Regarding XPEL Film
Don't wipe or scrub the film if it is in direct sunlight.
Only use microfiber or terry cloths in the film.
Don't use car waxes with dyes in them.
Don't use any abrasive cleaners on the film.
Use a dual-action or rotary buffer to remove scratches. Apply this with a reputed Machine Polish as it provides an in-depth, perfect shine. Use XPEL Flawless Finish Film Sealant to protect the film from any wear and tear that it may suffer. That way, you'll be able to get a shine that's not discolored.
Try staying away from any waxes that are dyed or might have harmful chemicals in them, as these can harm the film. In any case, if you wish to remove the film, contact our professional installer to have it removed. We'll make sure that the paint underneath the film stays in contact.
Protect Your Car from Minnesota Road Damage with Window Tinting and Paint Protection Film by Bravo Protection Products
Speak with a Window tinting & Paint Protection Film installation professional from Bravo Protection Products to learn more about what we can provide you with to keep your car looking its best even through the harsh Minneapolis winter. Having professional installation of Paint Protection Film, Security Window Films, Residential and Commercial Window Films, and Safety and Security Window Films can be done right in our facility located in Minneapolis.