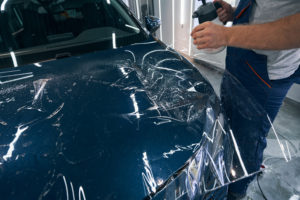 Paint Protection Film goes by many names; it is also known as clear bra or PPF. Paint Protection Film, a thermoplastic urethane film, is self-healing; isn't that fantastic? It's also easily malleable, making it the perfect protection for your car.
Paint Protection Film is actually invisible to the naked eye, which is great as PPFs don't take away your car's overall aesthetic while protecting your vehicle from unsightly chips and scratches. Another huge advantage of Paint Protection Film is that it protects your vehicle from the sun.
What does Paint Protection Film Help Against
PPF is widely known to be a durable, protective coating that withstands a lot of punishment, and it's probably one of the strongest ones. Plus, everybody's vehicle is probably out in the sun all the time; it's a no-brainer. But you should know that due to the sun's harmful UV rays, your car's paint oxidizes and fades over time. However, XPEL Paint Protection Film available at Bravo Protection works as a protective layer between the sun and the paint to prevent your vehicle's paint from fading.
XPEL PPFs available at Bravo Protection also protect your car paint from a decent amount of damage. This damage can be anything from impact like rock chips & scratches to chemicals like acid rain.
Benefits of Paint Protection Film
Paint Protection Film, most commonly called PPF and 'clear bra' is a revolutionary paint protection aesthetic that helps protect & preserve your paint while keeping your vehicle looking newer. Its special chemical composition has self-healing properties that extend many healing capabilities because of its special chemical composition.
Some more advantages of XPEL Paint Protection Films available at Bravo Protection are as follows:
It keeps your car cleaner.
It makes it easier to clean your car.
It protects your car against acidic contaminants (such as bird poop & bug spatter).
It protects against UV damage and oxidation.
It provides minor resistance against chips & scratches.
XPEL Paint protection film can also heal scratches.
Let's see how some more factors that make Paint Protection Film the best protective shield your vehicle can have:
How does Paint Protection Film heal itself?
Some workshops throw terms like a self-regenerating car coat that can heal any scratch if you get one on your car. If you're among those who wonder, is all of that true – well, it turns out, in fact, it is true. As long as the Paint Protection Film on your vehicle doesn't tear, it will heal everything on it.
Worried about scratches? You can forget about them! If or when some kids made graffiti on your car, erase them without rubbing off the paint. How does PPF do that? We need science to answer that.
So, the science dictates that they have a hydrophobic clear coat that helps combat and repel hard water spots. Paint Protection Film's self-healing properties help it heal itself when exposed to abrasive elements such as small scratches, rock chips, road debris, and swirl marks. Apart from that, PPFs reduce UV exposure & oxidation and resistance to chemical etching & staining.
We at Bravo Protection use Paint Protection Films from XPEL, an industry-leading manufacturer. XPEL Paint Protection Films essentially erase chips, dips, scratches, dings, or swirls like they were never even there.
How does Paint Protection Film Work?
A stable state is where the object has no excessive energy use. PPF's stable state is one where it doesn't have any scratches, and it will want to go back. That's how Paint Protection Films usually work.
"Force Dissipation," most folks have never even heard of it, but PPF uses it, so what is that, and how does it work? It's a phenomenon that involves spreading the force around an area instead of keeping it at one point.
Now, how does Force Dissipation work for your PPF?  Force Dissipation basically means applying force to a small area will affect more than the same force applied to a larger area.
For instance, let's say that a nail and a smooth rock are pushed into your hand with the same force. The nail will certainly hurt more because the area on the nail touching your hand is small compared to the rock, which has a comparatively large area of contact.
Now, let's say a small rock hits the side of your car; this would normally put a small chip in your paint. However, if you have XPEL PPF, it'll not even have an impact. Why? Because of the force dissipation.
But didn't we say dissipation only happens if the object is big and doesn't apply force on a small point? Yes, but this is why PPF is brilliant as it dissipates the force applied to it, completely negating any force applied to it.
However, there's a limit to what it can take, and it will not stay intact if there's serious damage. And if there is a tear in PPF, it'll stop working.
PPF vs. Ceramic Coating
Let's know more about How Paint Protection Film and Ceramic Coating are different
Are PPF and Ceramic Coating Different? This is an excellent question that Bravo Protection Products often get asked because the two are so similar. And most people aren't sure which one they should get installed on their vehicle. Both serve the same purpose, in any case, which is to preserve & protect the paint on your vehicle and keep it looking new for as long as possible. They differ from one another, yes, but they're both beneficial for you as they bring their own set of benefits to the table.
Visit Bravo Protection Products to combine PPF and Ceramic Coating for Ultimate Protection
Both XPEL Paint Protection Film and Fusion Plus Ceramic Coating available at Bravo Protection help to preserve & protect your vehicle. But did you know that you can combine the two for the best possible protection package?
Combining Paint Protection Film and Ceramic Coating installation service will leave you with the highest level of protection that you can find, all while enhancing the overall aesthetic of your vehicle. Keep in mind that you add excellent protection to your car if you decide to install both or just one!
If you're looking for paint protection film or ceramic coatings in the St. Paul-Minneapolis area, contact Bravo Protection today to discover which option is best for you!