Getting a high-quality paint protection film or Clear Bra installation on your car's exteriors is one of the most intelligent aftermarket decisions you can make. PPF works to protect your vehicle's brand-new factory paint job and keep it looking as good as the day you drove it home from the lot. However, most new car owners ask a common question when debating whether they should go for it: "How long does PPF last?"
It's an entirely valid concern, as a standard PPF is a considerable investment, and customers seek to maximize their ROI. The answer is that a well-installed and good-quality PPF comes with an extended lifespan that can keep your car's surfaces protected for over a decade.
To help you make the light decision regarding getting PPF for your car. We will discuss the benefits, costs, and factors that affect the lifespan of your paint protection film.
What is PPF and How Does It Protect Your Car?
A PPF or paint protection film is a 100% clear, polyurethane film that acts like a second skin on your car's exterior surfaces. The film is usually applied to the areas of your vehicle that are the most susceptible to damage, or you can go for complete coverage.
The best part about PPF is that once it's applied. You don't have to go back every two months for a top-up or fresh coat, as the film lasts a couple of years at least. The warranty details are an excellent way to determine good-grade PPFs from low-quality stuff. A manufacturer offering a lifetime installation warranty trusts the product to last, which tells you all you need to know about the product.
The advantages of installing Paint protection film are as follows –
It protects your expensive car paintwork against damage from small rocks, gravel, roadside debris, etc.

A good quality PPF also protects your paint's original paint color by preventing oxidation from harmful UV rays.

The hydrophobic topcoat on PPFs repels water, effectively preventing the formation of water spots while protecting the paint from the damaging effects of acid rain, oil/chemical spills, and even mineral deposits.

A high-quality film like XPEL Ultimate Plus has a self-healing layer that can repair minor scratches and swirls in the movie with simple heat application.

It protects the car doors against scratches and damage from parking lot door dings.

PPF makes it easy to wipe off bug splatter, tree sap, bird droppings, etc. and prevents corrosion.

Preserves your vehicle's resale value and saves thousands of dollars in paint job repairs.
Now that we have seen the benefits of installing PPF on your car let's see why getting it installed by well-trained and experienced professionals matters.
How Long Does PPF Last: Why Proper Installation is Important?
Now that we have seen the benefits of installing PPF on your car,
How is Paint Protection Film Installed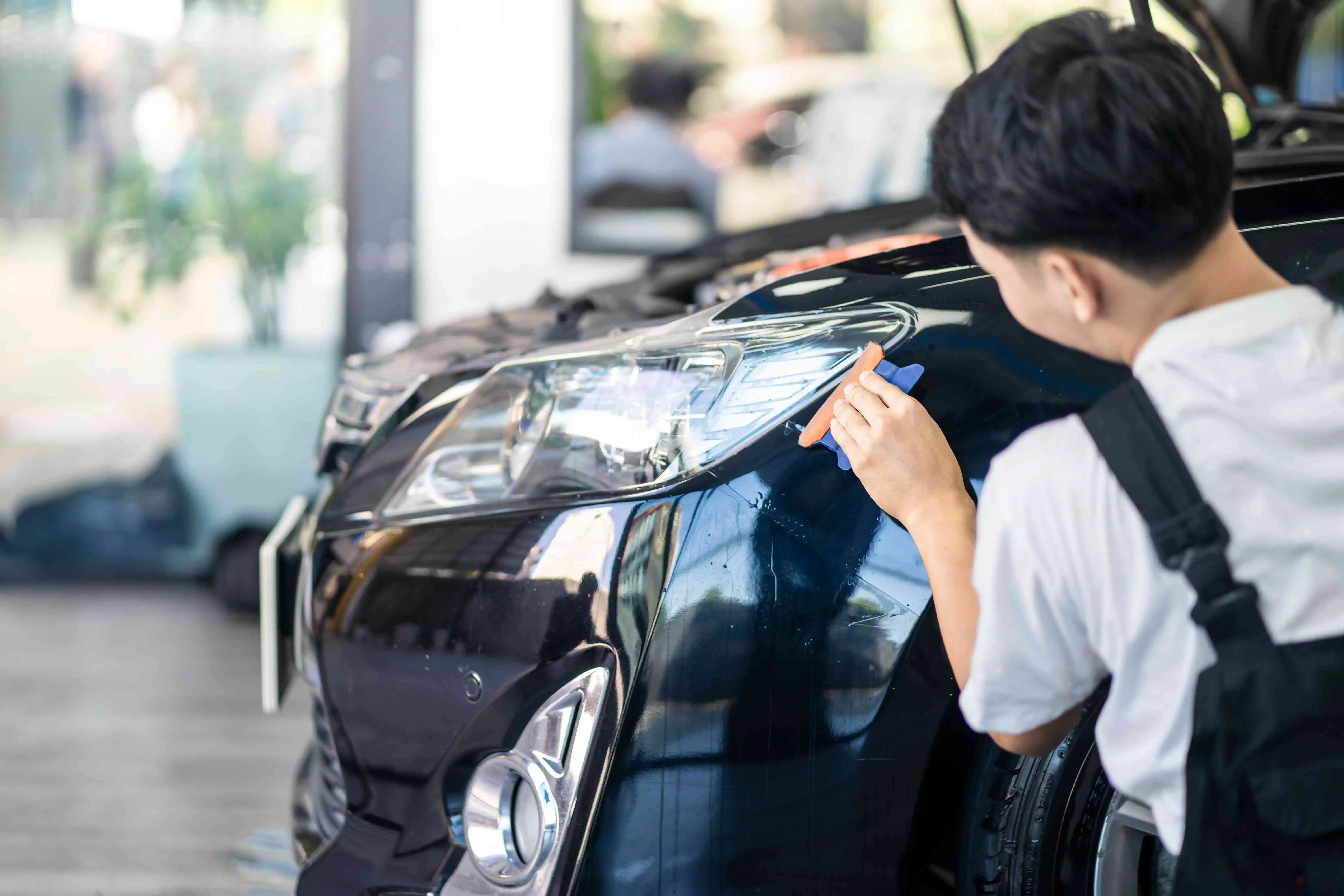 Just like other paint protection methods, proper preparation, installation, and aftercare are crucial for the success of a Paint protection film. An improper installation performed by a team of inexperienced technicians can result in PPF failure.
At Bravo Protection Products, our team has a combined experience of over 50 years in PPF installation. Moreover, as an XPEL-certified installer, we also used advanced XPEL software. We are updated with the latest car models. That allows us to cut and apply the perfect size PPF films every time.
As we believe in providing our customers with the best, we always use XPEL Ultimate Plus, a leading industry product equipped with the latest self-healing technology and hydrophobic topcoat.
Apart from the quality of the film, here are the 3 significant factors that determine how long does PPF last:
Have you ever noticed, while applying a sticker, that it simply doesn't stick to dirty, wet, damaged, or rough surfaces? If it does stick, the sticker soon starts to peel off due to the presence of these contaminants underneath.
The same happens when a PPF film is applied to a contaminated surface. Therefore, the first step before PPF installation is to clean the surfaces on which it is used properly. This is the most time-consuming and critical part of the entire process, as a spotless character is crucial for a successful PPF installation.
After the surfaces have been prepped for Paint protection film. The stage deals with the application of PPF to the vehicle's exterior.
This a painstakingly complicated process as the technicians have to apply the PPF perfectly onto the painted surface while avoiding any creases, bubbles, or folds that can mar your car's flawless look.
The PPF protects your car from external contaminants like acidic bird droppings, corrosive chemicals, UV oxidation, etc. So, the lifespan of your PPF also depends on how much it is used. For example, a car primarily used for weekend getaways will face less wear and tear than a vehicle subjected to a 20-hour commute daily.
How to Make Your PPF Last Long?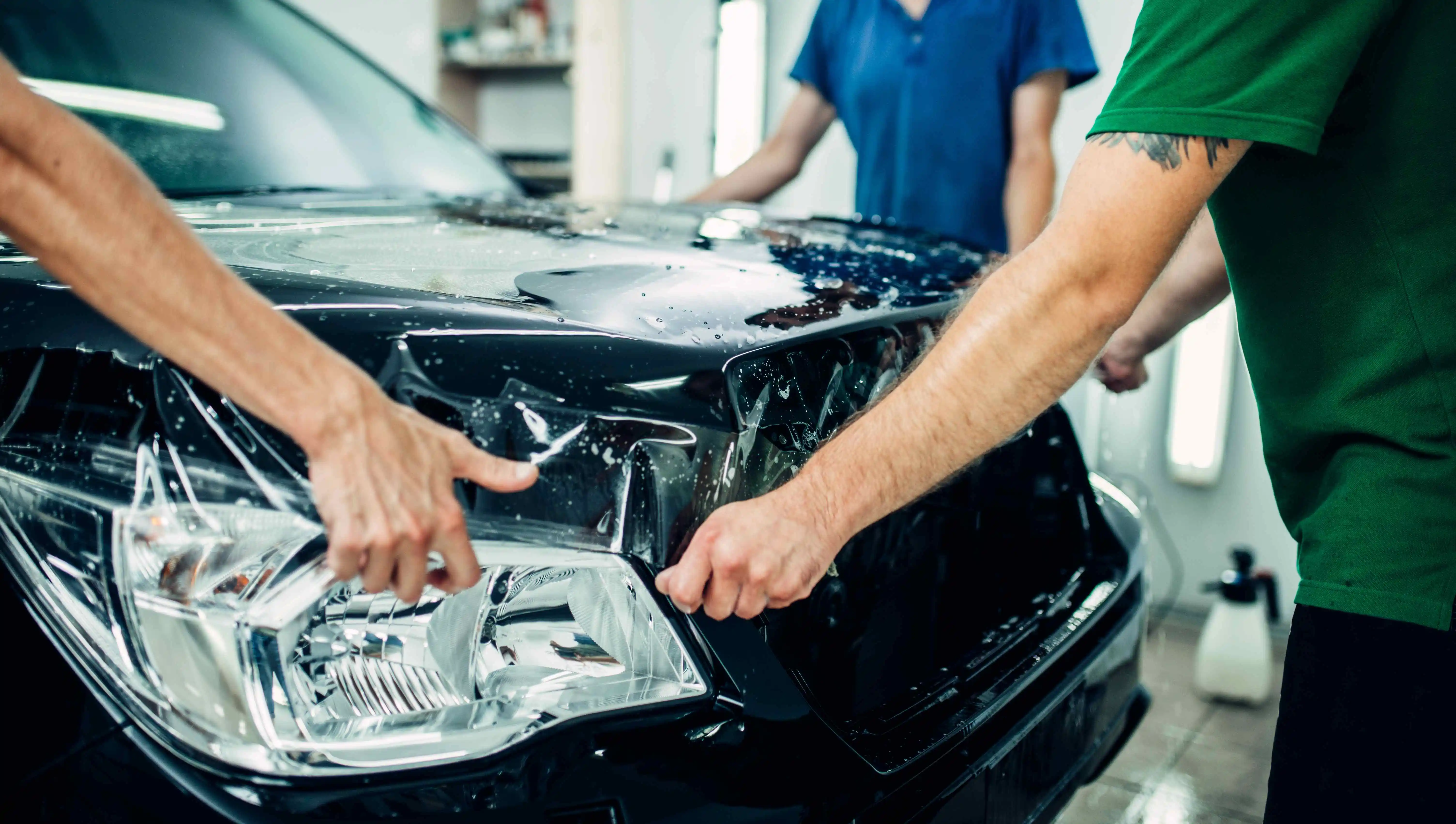 Never pick at the edges of your PPF. It can disrupt the adhesive and allow dirt and other contaminants to get under the film.

Avoid pressure washing your car, or at least take care not to pressure wash near the film edges.

Use a microfiber cloth to wipe your vehicle.

Wash your car every 2-3 weeks and clean off any bug splatter or bird droppings as soon as possible. As they are acidic and can erode the film.

Always check compatibility before going for taxes, glosses, or coatings.

Try not to leave your car in direct sunlight for too long at a time, especially during summer.
How Long Does PPF Last? Here's Our Final Say
In the end, how long does PPF last depends on the quality of the PPF, the expertise of installation, and how well you maintain it 
At Bravo Protection Products, we recommend XPEL Ultimate Plus, with a 10-year manufacturer warranty against material defects and failure. The PPF also comes with a lifetime installation guarantee. This tells you how much confidence the company has in its products.
Could you find the Best PPF Installation Services in Burnsville, MN? Drive Your Car Down to Bravo Protection Services Today!
We hope we have successfully answered your original question: How long does Paint protection film last for you?
If you want a long-lasting PPF installation with a smooth finish for your vehicle's fancy paint job, look no further than Bravo.
Our advanced technology, combined with our expertise, ensures a flawless look and long-lasting protection for your car.
So, why wait? Enjoy advanced paint protection by calling us at 952-476-7025 or filling out this form on our website now!